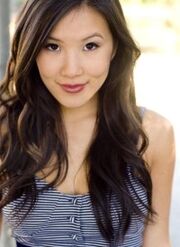 Ally Maki is an American television and movie actress. She is sometimes credited as Ally Matsumura.[1] Maki made a notable guest appearance on the series Bones as the androgynous Dr. Haru Tanaka. She appears in a short featurette on the Bones: Season 4 DVD entitled "Androgyny: Playing Haru Tanaka" where she discusses the role.[2] From 2009-2010, Maki had a supporting role in the ABC Family television series 10 Things I Hate About You. Most recently she made an appearance for the TV Sitcom, The Big Bang Theory playing the role of Joyce Kim. According to Internet Movie Database(IMDB), she is also listed to appear in season four, episode twenty-two.[3] But as of now, nothing is said of the plot or her involvement in the story.
Filmography Year Title Role Notes 2002 My Wife and Kids Sasha Episode: "Samba Story" 2003 ER Missy Episode: "No Strings Attached" That's So Raven unknown Episode: "Campaign in the Neck" Buffy the Vampire Slayer Japanese Girl Episode: "Chosen" 80's Ending unknown Rogues choir 2007 Subs Alexa Tanaka 2008 Privileged Breckyn 4 episodes iCarly: iGo to Japan Kyoko TV movie Miss Guided[1] Michelle Episode: "High School Musical" Terminator: The Sarah Connor Chronicles student Episode: "Queen's Gambit" 2009 Greek Hot Renaissance Fair Girl Episode: "See You Next Time, Sisters!" Bones[1] Dr. Haru Tanaka Episode: "The Girl in the Mask" 2009–2010 10 Things I Hate About You Dawn 16 episodes 2010 Crazy/Sexy/Awkward Rosemary The Prankster[5] Kassandra Yamaguchi The Family Tree Shauna The Big Bang Theory[1][4][6] Joyce Kim 2 episodes Step Up 3D[1] Jenny, NYU Student
Ad blocker interference detected!
Wikia is a free-to-use site that makes money from advertising. We have a modified experience for viewers using ad blockers

Wikia is not accessible if you've made further modifications. Remove the custom ad blocker rule(s) and the page will load as expected.