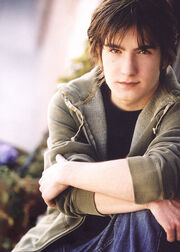 He was born July 16, 1987 is an American television and film actor. Allen was born in Redmond, Washington to Robert and Susan Allen. Susan is a retired radiology technician and his father Robert is an artist and environmentalist. He has been acting since 9 years old, first appearing in commercials. Eventually at the age of 13 he and his mother moved to Los Angeles where he began working on various film and television projects. He starred in the 2003 MGM Studios TV movie Recipe For Disaster, alongside John Larroquette, Lesley Ann Warren, Margo Harshman and Devon Werkheiser. Allen has also guest-starred on Ghost Whisperer, CSI: Miami, ER, Bones, Cold Case, Monk, Grey's Anatomy, Malcolm in the Middle, Reba, Charmed, 7th Heaven, and Make It or Break It. Allen was next seen in Peter Jackson's film adaption of The Lovely Bones, portraying Samuel Heckler, and right now he's working with director Michael J. Gallagher on a feature length horror film called Smiley, which will be finished in 2012
Ad blocker interference detected!
Wikia is a free-to-use site that makes money from advertising. We have a modified experience for viewers using ad blockers

Wikia is not accessible if you've made further modifications. Remove the custom ad blocker rule(s) and the page will load as expected.