Bones
is an American drama television series on the Fox Network. The show is a forensics and police procedural in which each episode focuses on an FBI case file concerning the mystery behind human remains brought by FBI Special Agent
Seeley Booth
to the forensic anthropology team of Dr.
Temperance "Bones" Brennan
.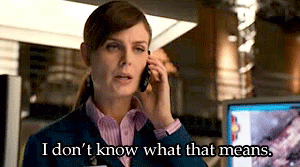 "I don't know what that means" is a statement frequently uttered by Temperance Brennan.
Despite Brennan's extensive knowledge of anthropology, she is quite unaware of pop culture; her co-workers, particularly Agent Booth, like to tease her about it. A running gag on the series is someone making an obvious popular culture reference and she blankly states, "I don't know what that means", and she is somewhat excited on the rare occasion that she does understand them. Read more >>


Which guest star are you most looking forward to seeing in the Final Chapter of Bones?
---
fr:
Ad blocker interference detected!
Wikia is a free-to-use site that makes money from advertising. We have a modified experience for viewers using ad blockers

Wikia is not accessible if you've made further modifications. Remove the custom ad blocker rule(s) and the page will load as expected.