About Bones Wiki
Bones is an American drama television series that premiered on the Fox Network on September 13, 2005. The show is a forensics and police procedural in which each episode focuses on an FBI case file concerning the mystery behind human remains brought by FBI Special Agent Seeley Booth to the forensic anthropology team of Dr. Temperance "Bones" Brennan. Emily Deschanel stars in the title role, opposite David Boreanaz as Agent Booth. The rest of the cast includes Michaela Conlin, T.J. Thyne, Tamara Taylor, John Francis Daley. Previous cast members include Eric Millegan and Jonathan Adams.
The series, created by Hart Hanson, is very loosely based on the works of real-life forensic anthropologist Kathy Reichs, who is herself a producer on the show. Its title character, Dr. Temperance "Bones" Brennan is named after the protagonist of Reichs' crime novel series. Bones is a joint production by Josephson Entertainment, Far Field Productions and 20th Century Fox Television.
Seven seasons of Bones have been aired on Fox so far. Season 8 will premiere on September 17, 2012, airing Mondays at 8:00 pm. Reruns of previous seasons of Bones began airing on TNT on January 29, 2008. WGN America and MyNetworkTV are both syndicating Bones, which began in the Fall of 2009.
Bones Wikia currently holds 1,674 articles.
We would appreciate your contributions and edits to help keep this Wiki running.



Featured Article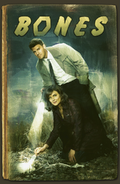 The show Bones was renewed officially by FOX on March 29, 2012 and Season 8 is premiering on September 17, 2012 on Fox Network. The new season will start off where last season ended after Brennan's unfortunate departure with her daughter and father. Read More.
Featured Poll
Are you excited about B-Squared?
Add Bones Wikia on Facebook here
Create blog post

In Season 10 Episode 3, I heard a metal song at the part where Brennan and Booth were going into Byers' building, about 18 minutes into the episode. Can anyone please help me find the song?  (Once again, sorry if this is in the wrong section.  I'm new here, and if…

Read more >

See more >
Featured Image
You Can Help!

Here are a few articles that you can jump in and help with:


Please add relevant information to these articles to make them as informative as possible. Then buzz me to see what is next on my list. Let's work together to make this wiki the best it can be.