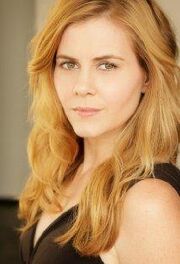 Christie Lynn Smith is an American actress. She is perhaps best known for her role of Deardra Farnum in the film of 2010 The Crazies.
Smith grew up in Orange Park, Florida. Since 1991, she has guest starred in numerous television series including Beverly Hills, 90210, 7th Heaven, Charmed, Once and Again, Baywatch, JAG, CSI: Crime Scene Investigation, Malcolm in the Middle, House M.D. and ER. She also appeared recurringly in Undressed and General Hospital. Besides The Crazies, her other film credits include Gods and Generals (2003), as well as appearing in a number of short films.
Ad blocker interference detected!
Wikia is a free-to-use site that makes money from advertising. We have a modified experience for viewers using ad blockers

Wikia is not accessible if you've made further modifications. Remove the custom ad blocker rule(s) and the page will load as expected.