The Cold in the Case is the twenty-first episode of the ninth season of Bones.
The Jeffersonian team investigates the murder of a woman whose remains were found in a swamp. When the team realizes that her body was cryogenically frozen before it was disposed, it leads them to a cryogenic preservation facility where they learn more about the victim's personal life. Meanwhile, Cam is hesitant to meet Arastoo's father and mother for the first time and Booth is up for a huge promotion that could uproot his entire family.
Main Cast:
Edit
Intern of the Week
Edit
Guest Cast
Edit
Featured Music
Edit
The title is a play on the phrase "cold case," an unsolved ciminal case with no leads and no where else to go beyond the point it is at without it being closed.
Video Gallery
Edit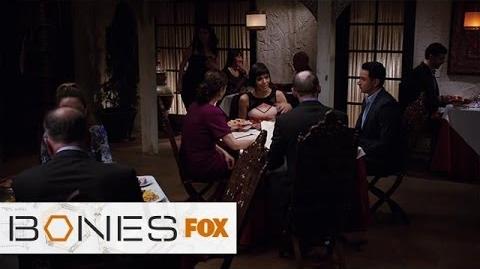 Ad blocker interference detected!
Wikia is a free-to-use site that makes money from advertising. We have a modified experience for viewers using ad blockers

Wikia is not accessible if you've made further modifications. Remove the custom ad blocker rule(s) and the page will load as expected.