This is the third episode of the eleventh season of Bones.
On Brennan and Booth's first official day back at their respective positions at the Jeffersonian and the FBI, things get exciting when remains are found at a fish farm under suspicious conditions, prompting them to investigate. After it's discovered that someone harvested several of the victim's internal organs before he was dumped in the water, Angela tracks down the seller and buyer of the organs to try to uncover important details in the case. Meanwhile, Booth readjusts to his position back at the FBI and discovers Aubrey has taken over his old office; Hodgins pushes Angela to showcase her photography work; and Cam struggles with her decision to choose work over her relationship with Arastoo.
Main Cast:
Edit
Intern of the Week
Edit
Guest Cast
Edit
Featured Music
Edit
Langhorne Slim & The Law - Put It Together
Video Gallery
Edit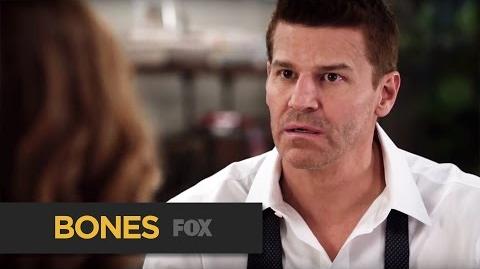 Ad blocker interference detected!
Wikia is a free-to-use site that makes money from advertising. We have a modified experience for viewers using ad blockers

Wikia is not accessible if you've made further modifications. Remove the custom ad blocker rule(s) and the page will load as expected.