This is the tenth episode of the eleventh season of Bones.
The team investigates the murder of a police officer that sends shockwaves through both the Jeffersonian and FBI teams. Behaviour analyst Leslie Green (guest star Sara Rue) is assigned to work with Booth on the investigation and lends her professional assessments on who the cop killer could be, while Cam must make some decisions in her personal life and the entire team re-evaluates what is truly important to them.
Main Cast
Edit
Intern of the Week
Edit
Guest Cast
Edit
Featured Music
Edit
Hold by Built for the Sea
While talking with the victim's boss, Booth mentions he's familiar with El Salvadorian gangs, most likely referring to the events of "The Woman in the Garden", where they had issues with the El Salvadorian gang Mara Muerte.
Video Gallery
Edit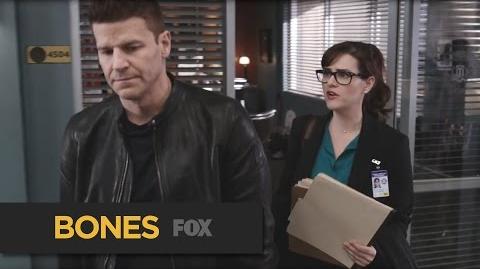 Ad blocker interference detected!
Wikia is a free-to-use site that makes money from advertising. We have a modified experience for viewers using ad blockers

Wikia is not accessible if you've made further modifications. Remove the custom ad blocker rule(s) and the page will load as expected.