This is the fifteenth episode of the eleventh season of Bones.
The team investigates the body of a private investigator who was found frozen in ice, after being dumped in the Potomac. The victim, a man with many enemies, was a "fixer" who made sure his clients' problems got "resolved." Meanwhile, Aubrey is shocked to find information tied to his father's whereabouts, Angela and Hodgins continue to work on their rocky relationship, Brennan and Booth get Christine's first report card and criminal behaviorist Karen Delfs (guest star Sara Rue) asks Aubrey out on a date.
Main Cast:
Edit
Intern of the Week
Edit
Guest Cast
Edit
Featured Music
Edit
In one scene, Angela is no longer wearing new necklace, and in the next shot, she is.
Video Gallery
Edit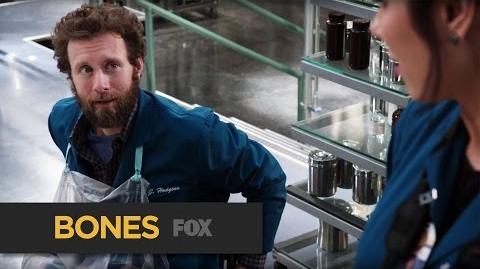 Ad blocker interference detected!
Wikia is a free-to-use site that makes money from advertising. We have a modified experience for viewers using ad blockers

Wikia is not accessible if you've made further modifications. Remove the custom ad blocker rule(s) and the page will load as expected.