The Monster in the Closet is the thirteenth episode of the eleventh season of Bones.
The Jeffersonian investigates the decomposing body of a social worker in the park, but evidence suggests the killer lived with the body for months before dumping it. Things get even more complicated when they determine another set of remains has similar details which link the multiple victims to a serial murderer who had sinister interactions with his victims' bodies. Booth and Aubrey (John Boyd) consult with behavioral analyst Karen Delfs (guest star Sara Rue) to help with clues to the killer's identity while Cam (Tamara Taylor) tries to determine what (and who) she wants in her romantic life.
Main Cast:
Edit
Intern of the Week
Edit
Guest Cast
Edit
Featured Music
Edit
Video Gallery
Edit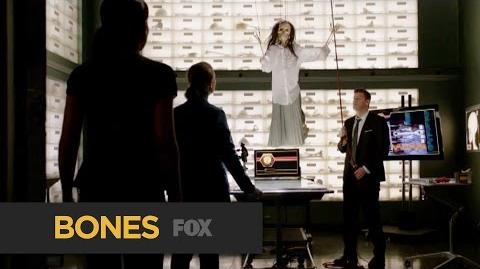 Ad blocker interference detected!
Wikia is a free-to-use site that makes money from advertising. We have a modified experience for viewers using ad blockers

Wikia is not accessible if you've made further modifications. Remove the custom ad blocker rule(s) and the page will load as expected.