The Prisoner in the Pipe
Talk

0
787pages on
this wiki
The Prisoner in the Pipe
Season 7, Episode 7
Air date
April 2, 2012
Written by
Jonathan Collier
Directed by
Kate Woods
Episode guide

Season 7
November 3, 2011 - May 14, 2012
Season 7 is available on Blu-Ray/DVD  
DVD release  
Region 1: October 9, 2012
Region 2: October 1, 2012
Region 4: November 7, 2012
Season 6
Season 8
The Prisoner in the Pipe is the seventh episode of the seventh season of Bones.
An escaped convict's remains are found in a residential sewer pipe, but the team finds evidence that a murder occurred inside a prison. Meanwhile, Booth asks Brennan to take it easy as they await the birth.
Booth is not happy when Brennan, in an advanced state of pregnancy, decides she is the only scientist who can solve the mystery of a prisoner's corpse found miles from the prison in the sewer system. Christine Angela, Booth and Brennan's daughter, is born at the end of this episode in a barn. When they come home, all their colleagues are waiting to celebrate.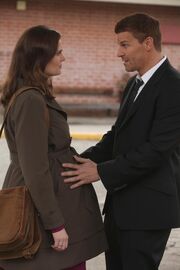 Main Cast
Edit
Intern of the Week
Edit
Guest Cast
Edit
Featured Music
Edit
How Bad We Need Each Other by Marc Scibilia