This is the fifth episode of the eleventh season of Bones and part one of the crossover with Sleepy Hollow.
It's Halloween time at The Jeffersonian, as the team gets a surprise visit from newly minted FBI Agent Abbie Mills (guest star Nicole Beharie) and Ichabod Crane (guest star Tom Mison), who have traveled from Sleepy Hollow to claim a headless body already under investigation by Brennan and her team. The new foursome must figure out how to work together to discover who the 200-year-old headless corpse is, and how it is linked to a contemporary murder victim. Meanwhile, Booth and Brennan come up with the ultimate Halloween pranks to play on each other.
Main Cast:
Edit
Intern of the Week
Edit
Guest Cast
Edit
Featured Music
Edit
This episode is the first of a two-part crossover with the supernatural show Sleepy Hollow. The story concludes in the Sleepy Hollow episode "Dead Men Tell No Tales" (However, the Bones side of the crossover is mostly standalone, although the Sleepy Hollow episode both follows up the fate of the corpse of General William Howe and is a part of the show's current struggle against Pandora).
This episode raises the possibility that Bones and Sleepy Hollow share a universe, which would mean that, despite Brennan's skepticism, magic, demons, witches, angels, gods and the undead are all real.
It's also possible that this episode is not canon to the Bones universe. In the Season 9 premiere, The Secrets in the Proposal, Hodgins mentions to Angela that their DVR is set to record Sleepy Hollow. Given this episode, it is not logical that he is referring to any adaptation of the short story "The Legend of Sleepy Hollow" by Washington Irving, since the showrunners of Sleepy Hollow confirmed before the show premiered that the story was never written in-universe (hence Abby not having heard of Ichabod Crane or the Headless Horseman before encountering them in person).
Video Gallery
Edit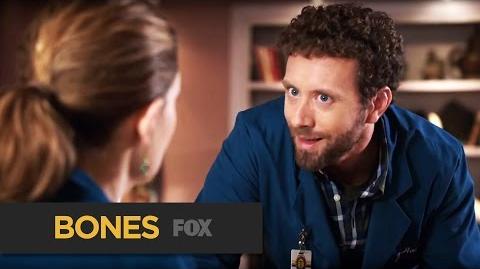 Ad blocker interference detected!
Wikia is a free-to-use site that makes money from advertising. We have a modified experience for viewers using ad blockers

Wikia is not accessible if you've made further modifications. Remove the custom ad blocker rule(s) and the page will load as expected.