This is the sixteenth episode of the eleventh season of Bones.
The team investigates the death of the leader of the Lynwood University male acapella singing group, "The Whippersnaps," whose body was found in the school rat lab. The victim recently kicked out Ian Jansen, one of the group's best singers (guest star Jordan Fisher), sending Booth and Aubrey to question Ian and other current members of the male group (including guest stars Mitch Grassi and Scott Hoying) and some stars of the competing female acapella group (including guest star Kirstin Maldonado) to get a handle on the group dynamics and what could have led to the murder of one of their own. Meanwhile, surprising information about Aubrey's own college experience is brought to light, Hodgins applies for an experimental nerve regeneration study, Booth tries to plan a summer trip with Parker (guest star Gavin MacIntosh) and a new intern joins the Jeffersonian lab (guest star B.K. Cannon).
Suspects:
Jake, the new leader of the a capella - group Whippersnaps after Scott died.
Ian Johnson. Scott's previous best friend who Scott kicked out of the Whippersnaps and consequently Ian left Lynwood.
William Johnson. Ian's dad who was a Whippersnap back in the 70s. Being a Whippersnap is apparently a part of their family tradition.
Elizabeth "Liz" Dervan. The leader of the Gingersnaps, a girl a capella - group. Scott and Liz practiced in secrecy, as Scott planned on having Liz in the Whippersnaps.
Esther Hines. One of the research fellows at the biomedical lab and a Gingersnap.
Main Cast:
Edit
Intern of the Week
Edit
Guest Cast
Edit
Featured Music
Edit
"Light In The Hallway"- Pentatonix
This episode originally involves a scene of Hodgela and their son Michael Vincent (played by Arjuna Maximus McLellan), where he comes to the lab to see his father, but it was later cut, and costing a very important moment of family bonding with the characters. So the content of his visit is "Dr Hodgins has lab rats that need a home. When Michael Vincent asks to hold one he and his dad turn to mom Angela to keep one. The look on Michael's face bonding with his new pet helps Hodgins to decide not to do the risky surgery that might cost him his life and to find another way to fight and get his legs back."
Video Gallery
Edit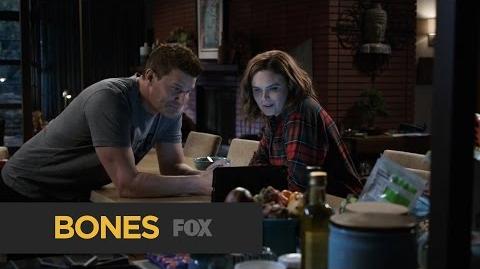 Ad blocker interference detected!
Wikia is a free-to-use site that makes money from advertising. We have a modified experience for viewers using ad blockers

Wikia is not accessible if you've made further modifications. Remove the custom ad blocker rule(s) and the page will load as expected.