The Turn in the Urn is the nineteenth episode of the ninth season of Bones.
Three peoples' remains in a single urn confound the Jeffersonian team after, Todd Mirga, a wealthy artifact collector walks into his own funeral.
The victim turns out to be Todd Mirga's concierge, Daniel Barr. The murder weapon turns out to be "Der Schlachter Kelch" (German for "the Slaughterer's Chalice"), a long-lost, ancient artefact of 4,000-years, with a legendary and deadly history (having crossed hands, traversed over empires, continents, and millennia, mostly by murder, (not unlike the Spear of Longinus), hence it's name of "Slaughterer's Chalice"); it's earliest mention was in the Land of Punt, in 2018 B.C.; it was made from gold and silver, with inlays of jade, chalcedony, and ivory of narwhal tusk. The murderer is revealed to be Sarah Metzler, Todd Mirga's current girlfriend, who was trying to protect him from Daniel Barr's attempt to re-introduce Todd to heroin again (so that the two could continue to 'shoot-up' together, as 'drug-buddies).
Meanwhile, Finn and Hodgins strike it rich with their hot-sauce venture.
Main Cast:
Edit
Intern of the Week
Edit
Guest Cast
Edit
Featured Music
Edit
This episode marks the final appearance of Luke Kleintank as Finn Abernathy.
Video Gallery
Edit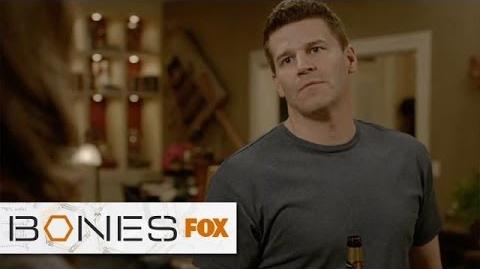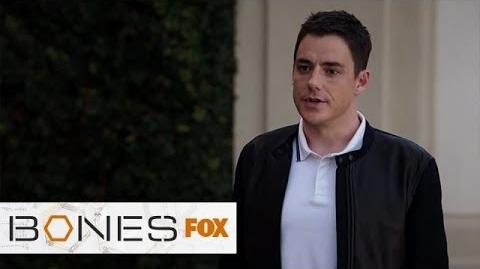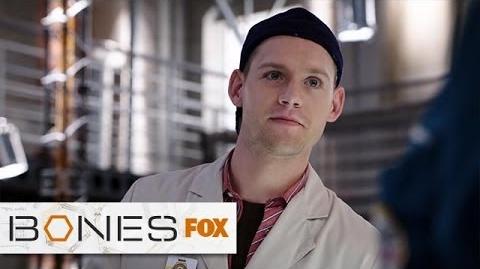 Ad blocker interference detected!
Wikia is a free-to-use site that makes money from advertising. We have a modified experience for viewers using ad blockers

Wikia is not accessible if you've made further modifications. Remove the custom ad blocker rule(s) and the page will load as expected.