This is the eighteenth episode of the tenth season of Bones.
With only 48 hours before the execution of serial killer Alex Rockwell, Brennan is double-checking the facts in his case, as she does any time somebody is to be executed due to her work. Rockwell, for his part, is not only calmly facing his fate, he has declined to appeal, and even asked for the date of his execution to be moved up. But when Brennan sees new x-rays of Rockwell that were taken in prison, she declares that he couldn't have been the killer... shocking the rest of the team, given that Rockwell's trial had been a slam-dunk case that took less than a week. The judge doesn't find Brennan's newly-found suspicions to be conclusive, and so she refuses to grant a stay of execution. Now the Jeffersonian team must race against time to find the evidence they need that Rockwell was not responsible for those crimes.
Main Cast:
Edit
Intern of the Week
Edit
Guest Cast
Edit
Featured Music
Edit
Video Gallery
Edit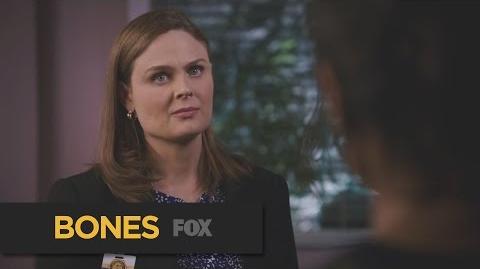 Ad blocker interference detected!
Wikia is a free-to-use site that makes money from advertising. We have a modified experience for viewers using ad blockers

Wikia is not accessible if you've made further modifications. Remove the custom ad blocker rule(s) and the page will load as expected.