Zooey Deschanel
Talk

0
799pages on
this wiki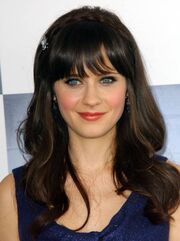 Zooey Claire Deschanel ; born January 17, 1980) is an American actress, musician, and singer-songwriter. Her older sister, Emily Deschanel, is also an actress and stars in the TV series Bones. She made an appearance in the episode The Goop on the Girl as Margaret Whitesell.

In 1999, Deschanel made her film debut in Mumford, followed by her breakout role as young protagonist William Miller's troubled older sister Anita in Cameron Crowe's 2000 semi-autobiographical film Almost Famous. Deschanel soon became known for her deadpan and "Manic Pixie Dream Girl" supporting roles in films such as Elf (2003), The Hitchhiker's Guide to the Galaxy (2005), Failure to Launch (2006), Bridge to Terabithia (2007) The Happening (2008), Yes Man (2008), and (500) Days of Summer (2009). She has been nominated for Golden Globe, Grammy, and Emmy Awards. For a few years starting in 2001, Deschanel performed in the jazz cabaret act If All the Stars Were Pretty Babies with fellow actress Samantha Shelton.[4] Besides singing, she plays keyboards, percussion, banjo and ukulele.In 2006, Deschanel teamed up with M. Ward to release their debut album Volume One (recorded with M. Ward under the moniker She & Him) which was released in March 2008. Their follow-up album Volume Two was released in the U.S. in March 2010. She also often sings in her films. In September 2009, Deschanel married Death Cab for Cutie frontman Ben Gibbard; however, she filed for divorce from him in December 2011, and the divorce was finalized in December 2012.
She also plays the role of Jessica Day on the TV series 'New Girl'.